CockyBoys: Sharok and Brock Banks team up to fuck twink boy Tannor Reed
Twink boy Tannor Reed gets fucked by Sharok and Brock Banks in this hot and steamy threesome from CockyBoys. Best buddies Brock and Sharok share the twink and fill him up from both sides! Tannor is excited to be in the hands of two considerate tops and let them do whatever they want.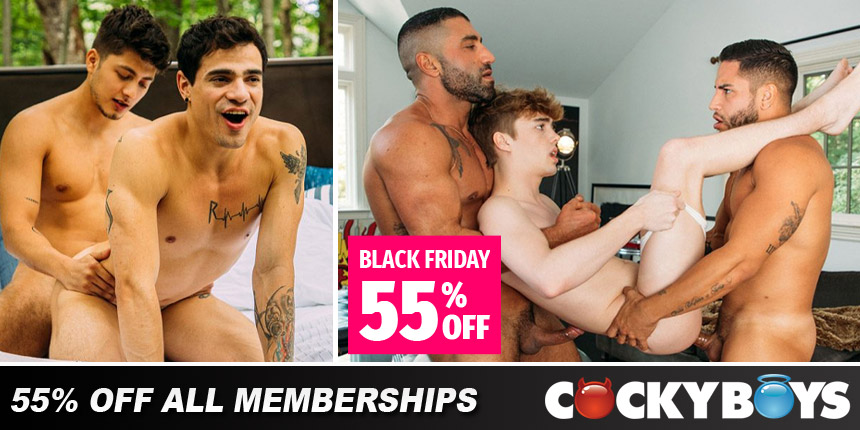 After much making out and teasing the boy's hole, Tannor goes down on Brock while getting his ass rimmed and opened up by Sharok. Brock wants his turn and Sharok turns Tannor around to switch places with Brock. In the middle of getting good head, Sharok is drawn back to join Brock in feasting on Tannor's hole. His dominant side heats up as he face-fucks Tannor.
He again turns Tannor Reed and pounds his hole while Brock makes out with him. They then hold Tannor upside down for him to suck Brock Banks while Sharok eats out his ass. Then he holds Tannor by the arms while Brock drills him in a mid-air missionary position.
---
---
They soon bring flexible Tannor to the sofa to flip his legs back so Brock can drill his hole in a reverse pile-driver. Tannor relishes being used and soon he's flipped on his back for more of Brock's cock. As he's fucked hard Tannor sucks on Sharok who in turn kisses him passionately to enhance the pleasure. Though Sharok's dominant nature returns as he starts to plow Tannor.
Brock joins in to make Tannor their verbal sub and face-fucks him. Soon the double pleasure pushes Tannor over the edge he shoots a high flying geyser of cum. Sharok can't hold back either and he breeds Tannor's hole while Brock gives Tannor a thick facial.
As Tannor shows off his owned hole, Sharok pumps out another thick load all over it and slides his cock back in. Who's the most satisfied here? In this tag team match, it's definitely a draw.
Watch Sharok and Brock Magnus tag-team Tannor Reed